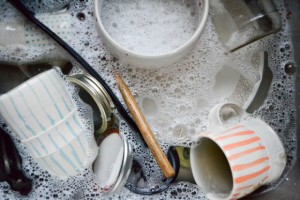 Every week, our community gathers for a shared meal. We are made up of staff, volunteers, newly-arrived refugee claimant families living in community with one another in the share space of the welcome houses, and families who have already moved out and are in various stages of establishing themselves in Canada.  Someone volunteers to cook, and we indulge in Kurdish or Afghan or Congolese food, getting to know each other a bit better by experiencing the smells and flavors that the cooks for that week have grown up with.
It's getting late on a Tuesday night, and the crowd is thinning out. My friend has come to community dinner after an early morning and a long day at work, but he stays to wash dishes anyway. As we stand together at the sink, scrubbing and rinsing the plates and glasses, I ask him how work is going. He works in the most impoverished part of Vancouver, known locally as the Downtown East Side. This diverse neighborhood is home to some vibrant and inspiring communities, full of people whose stories of creativity and resilience would take your breath away.  Paradoxically, it is also a place where issues of drug addiction, homelessness, and street prostitution are concentrated and contained in the middle of what is otherwise known as one of the "most livable" cities in the world. It's the same neighborhood where Andy and I lived with the Servants community for six months when we first arrived in Canada, and it's currently the epicenter of BC's fentanyl crisis.
Fentanyl is an opioid 100 times stronger than morphine, and it has become so common in the street drugs sold and consumed in the Downtown East Side that 80% of the street drugs tested in a recent study were laced with it. This means that on a daily basis, the desperate people turning to drugs to cope with their pain and trauma—such as sexually exploited women, abused foster children who have aged out of care, and people with chronic, untreated mental illness—are now at higher risk of losing their lives, because the same dosage of heroin, cocaine, or crystal meth that would have merely provided a short period of euphoric escape in the past is now likely to deal a death blow. Overdose deaths are nothing new in Vancouver, but the result of fentanyl's proliferation has been such a sharp increase in overdose deaths across BC (922 in 2016 alone) that our provincial health officer has declared a public health emergency, and the province has urged the federal government to do the same.
My friend's job has made the crisis personal. He's been trained to use Narcan, an opiate antidote that works as an emergency treatment for overdoses by blocking the effects of opiates on the brain. During one of his shifts, he found a man in the street who had overdosed on an opiate laced with fentanyl, and he saved the man's life by injecting him with naloxone and waiting with him until an ambulance arrived.
My friend tells me about the sense of fulfillment he gets from being part of a community at work that is building people up, and the happiness he feels in seeing people make progress in their lives as a result of the care and respect they've been shown. He reflects on the anger he feels about the government's complacency in responding to the fentanyl crisis, and the way that the down-and-out people he sees in the neighborhood are robbed of their dignity in a million different ways on a daily basis. He even reflects on the similarity between the indifference of the wealthier people he sees interacting with homeless people in the Downtown East Side, and the privileged obliviousness with which he once lived his life in his home country—before he lost everything, before his family sought asylum on the other side of the world, before they entered into temporary poverty and into the stressful process of waiting for The Powers That Be to decide their fate in a hearing room.
I am moved by my friend's compassion; by the fact that instead of losing himself in anger or despair over the injustice that he himself is experiencing, he is instead choosing to throw himself into the hard work of confronting suffering, building relationships, and doing what he can to make the world a better place. My friend hails from a country that has been torn apart by war. He and his family were forced to flee their home under threat of death, and so far, they have experienced the refugee protection system here in Canada as an unresponsive bureaucracy that is yet to grant them protection or provide any promise of permanence or safety. (So much depends on the subjective assessment of the particular human being assigned to decide your case, the potential ignorance or inflexibility of the system, or how well or poorly your lawyer does their job…)
Yet instead of feeling self-pity, what my friend feels is a sense of righteous anger on behalf of all those who are unjustly suffering in our society. "You get very tired, but at the same time there is something pushing you," he explains, speaking of his sense that God strengthens and inspires him to continue being present with people around him who are in difficult circumstances.
We discuss the idea that there are actually two Canadas: one inhabited by wealthy people who can choose to go about their lives without ever facing the brutal realities of poverty, addiction, and injustice in their country, and another inhabited by marginalized people like the ones my friend meets at work. He views the world of the Downtown East Side as the more honest one because the people he's gotten to know there are so real. "There's no fakeness," he explains. "If I had to choose between the two," my friend states with conviction, "I would choose to stay with those guys [in the Downtown East Side]."
Tears spring to my eyes as I realize that in the solidarity my Muslim friend describes, I am encountering the heart of Christ. I realize that, in the relatively brief time that he has lived in this country—with precarious status, no less—my friend has engaged more fully with Canadian society than the majority of people who have lived here their entire lives without ever having to justify their presence within these borders. I realize that this man's life challenges me to embody the ideals that I myself profess but so easily fall short of living out. My friend is a refugee, but that label doesn't even come close to capturing who he really is.
I pray for the day when my friend's family will be allowed to officially call this place home, the day the beauty of their lives and contributions will be recognized and welcomed, and the day that my friend's longings for justice will be fulfilled.