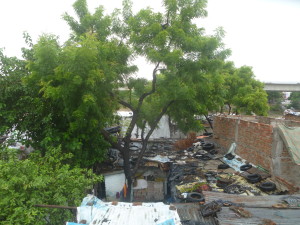 During the time I lived in the slum, I sometimes interacted with other Christians who viewed Muslims as spiritual projects. They were confused about why I would choose to live with people in poverty and/or people of another religion for any reason other than to use cloak-and-dagger evangelism to convert them.  If I responded that following Jesus compelled me to love my neighbors and seek to work for justice alongside them, other Christians sometimes concluded that all that neighborly love must be a way of warming up the crowd for the REAL message of Jesus later, and it seemed impossible to explain that–as far as I was concerned–love, justice, community, and belonging in God's family WERE the message.
At a time when these sorts of conversations had left me feeling discouraged and misunderstood, I met an octogenarian nun with a crinkly face and a compassionate heart. Her understanding of my strange life was a much-needed comfort at the time, and to this day I continue to unpack the wisdom she shared with me in our conversations under the neem trees.  This month, I got to write about my friendship with her in an online article for Plough Quarterly. Here's an excerpt:
"There were the unjust laws and corrupt officials. There was drought and impoverished soil in the villages our neighbors hailed from, where fields could not be endlessly subdivided between generations of sons. The education and healthcare systems were inadequate. And among those we got to know, malnutrition, family cycles of violence, and psychological trauma all took their toll. Generations of discrimination too often meant that people in poverty didn't expect much from themselves.
We were discouraged not only by the enormity of the problems faced by our neighbors, but also by the church's failure to respond. Of the local Christians with whom we interacted, many seemed focused on a "spiritual" agenda – gathering adherents – though to be sure, they had material concerns as well: maintaining historical church buildings and air-conditioned auditoriums…"
Head on over to Plough to read the rest!