The most frequent command in Christian scripture is, "Do not be afraid." The New Testament even presents fear being the opposite of love, stating bluntly that "perfect love casts out fear." At first glance, this may seem a surprising idea, but on closer inspection it makes perfect sense. Fear propels us to act first and ask questions later; to reason carelessly; to prioritize self-preservation over compassion. Fear can make us irrational, destructive, violent. When we experience terror, we are often willing to scapegoat or accuse or punish anyone if we believe that doing so will bring our unbearable terror to an end. We become obsessed with restoring our sense of safety and comfort as quickly as possible, and all other concerns can easily take a backseat to that one, compelling priority.
Two nights ago, I dreamt that I was back in the slum in India, hanging out with some of the women and girls I know there. Frequently over the past year, I've had realistic dreams about visiting my friends' homes, eating and talking with them, but this time it was different—the next morning, my former teammate (who is still there) emailed to say that he had visited our old neighborhood and that many of the people there had asked about Andy and me and passed along their greetings to us. He had likely been talking with them at the same time that I was dreaming about them.
In the wake of the Paris attacks, my friends in India are on my mind a lot. Every time someone makes an ignorant generalization accusing all Muslims of being terrorists, I think of the generous and hospitable families in the slum who welcomed me into their lives. I think of the children suffering malnutrition and forced into tedious labor instead at a young age instead of being able to attend school. I think of their parents' struggles with illiteracy, unemployment, and prejudice from the majority of society. I think about how they could do without any more obstacles placed in the way of living dignified, healthy lives, and I worry about the ways that negatives stereotypes and hatred toward Muslims will affect their lives.
I learned so much from my Muslim neighbors about compassion, loyalty, hope—and, yes, faith. They accepted me into their community despite the fact that we came from different races, different cultures, and different religions. When I remember the risk they took in choosing to get to know me as a person instead of allowing stereotypes to keep me at arm's length, I can't help but feel anger at the injustice of others in the West allowing stereotypes of Muslims to erase the humanity of my friends and neighbors in India.
But these are not the only people on my mind. I also think of my refugee friends here in Vancouver. One of them is a young woman from Afghanistan who was forced to flee her country with two young children to keep them all alive. Her daughter, little more than a year old, is nearly the same age as two of my beloved nieces/goddaughters in the United States.
If her case were being handled the way that refugee claims are in my home state of Texas, then she and her children would not be accessing counseling, supportive community, and legal aid to help them cope with the crisis they are in—instead, they would have already been sitting in prison for several months without access to a lawyer, and they would now be looking forward to indefinite detention with no one to help them.
If some of my friends on Facebook had their way, then this vulnerable family would not have even been allowed into North America because they are Muslim. Possibly, they would already be dead.
I think about all of these dear friends every time I hear or read about Muslims being cast as a single, monolithic group characterized by violence. I think about the real people that so many of us are eager to condemn, but whose faces we have never seen, whose stories we have never heard, and whose lives we are willing to hastily cast aside in pursuit of the idol of our own "security."
The young men playing love songs on their cell phones and flying kites on the roof in my neighborhood in India, my friends' babies learning to walk and talk, giggly teenage girls walking to school, grief-stricken parents who will risk anything–even a dangerous voyage across an ocean in an inflatable raft–to save their children's lives: these are all Muslims. Perhaps if we could recognize our own hopes and fears in them instead of directing our fear against them, we would be able to see them for who they really are.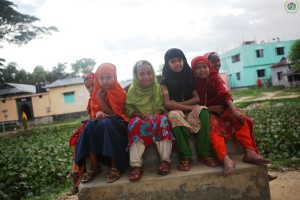 photo credit: <a href="http://www.flickr.com/photos/37890481@N04/6174828711″>Bangladesh, Ramadan 2011.</a> via <a href="http://photopin.com">photopin</a> <a href="https://creativecommons.org/licenses/by-nc-nd/2.0/">(license)</a>