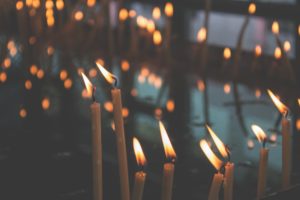 Today, The Mudroom has published an essay I wrote about the grief of journeying alongside refugee claimants who are denied asylum, and the ways that my coworkers and I have learned to care for our souls so that we can continue to reach out to new arrivals despite the recurring pain of having friends deported. Here's how it starts:
Silently, we sit around in a circle as my co-worker picks up the first candle, speaking a name and a prayer as she lights the wick and sets the tiny flame down in the middle of the table.  We each follow suit, one prayer and tongue of fire after another.

God, we don't know where they are or if they're alive…

Please keep her safe…

Please provide whatever he needs…

Just don't let them be alone….

May she know that she is loved.

Each candle on the table represents a friend who has been deported. Each prayer is for a family or an individual we have accompanied through the process of making a refugee claim in Canada. These people have all failed to secure the protection they have asked for, often because their story was not believed…
You can read the rest of the piece over at the The Mudroom.  If you are someone who works with/lives alongside marginalized communities facing frequent violence or loss, what are the ways that you have learned to tend your soul in such a way that you are able to continue loving and reaching out without succumbing to burnout, hopelessness, or compassion fatigue? How can we strengthen ourselves to live as friends and allies with the oppressed over the long haul? I'd love to hear from you.